On Monday, Amazon announced an upcoming change that will affect plenty of product listings. Starting July 17, 2021, Amazon will no longer support HTML tags in the product description of product detail pages.
You can view the entire statement from Seller Central below:
In order to provide security for our customers as well as versatility to list products on non-HTML devices, after July 17, 2021, we will stop supporting the use of HTML tags in the product description on product detail pages. Please refrain from using HTML content on detail pages as outlined on our Product detail page rules 260 Help page.

We encourage you to update any product detail page for your listings with an HTML tag. You can use Seller Central or your usual channel for such updates.

Any product description containing HTML tags in the product detail page which are not supported after July 17, 2021, will stop showing HTML formatting. For example, if you use HTML tags in one line of a product description, the line might be removed or shown without HTML formatting, depending on the usage of the tag.

– Seller Central
The statement reads somewhat confusing, especially as the Product Detail Page guide referenced mentions that line breaks (written as "</br>") can be included in the description as a special case. HTML line breaks in listings, as they break up text into smaller, more readable text blocks.
How It Appears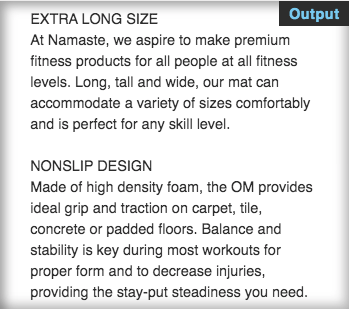 Additionally, the inclusion of "non-HTML devices" is a headscratcher, as most devices can read and display HTML markups without issue.
Nonetheless, Amazon sellers should prepare accordingly.
While product descriptions don't make a significant impact on keyword indexation, it allows an excellent opportunity to describe your product, explain crucial product details, and close the deal with a customer.
If segments of your product description are removed or displayed in an undesirable manner, it could consequently lead to lower conversions. Making sure your product description answers potential customer questions, highlights differentiating points, and is reader-friendly can certainly go a long way toward giving your product listing an edge over the competition. Any failure to do so invites customers to click off and check out your market rivals.
Of course, we'll continue to monitor the situation as more information becomes available regarding the update. The announcement serves as the latest update in what's been a rather busy week for Amazon news. Stay tuned for more regarding HTML tags on Amazon.
Get the latest Amazon news and updates sent straight to your inbox! Join our email list below.