Amazon is an incredibly vast and complex machine. While intimidating to some who have yet to find their footing, to others the complexity creates an immense frontier waiting to be explored and conquered. It seems that every day some frontiersman discovers a new trick or topic that somehow changes the Amazon private label community's mindset or selling practices.
The brilliant Viral Launch Team made an interesting discovery over the holiday season. Have you ever been curious how Amazon decides which words to place in a product's Canonical URL? Do you know how to influence the words that Amazon places in the canonical?
We've cracked the code and uncovered some key truths to keep in mind when building your listing's title. With this understanding, you can dictate to Amazon which keywords should be in your product's canonical URL.
What Is An Amazon Canonical URL?
A Canonical URL is a direct link to a product's detail page that contains keywords pulled by Amazon, seemingly arbitrarily, from the product's title and separated by hyphens. In the SEO world, this is generally referred to as the URL slug.
The Canonical URL follows this structure:
https://www.amazon.com/words-from-the-products-title/dp/ASIN
Here is the Canonical URL for the Amazon Echo:
https://www.amazon.com/Amazon-Echo-Bluetooth-Speaker-with-WiFi-Alexa/dp/B00X4WHP5E
This is not a Canonical URL:
https://www.amazon.com/dp/ASIN
To find a product's canonical URL you can either visit the product's page through a search result or you can inspect the page elements using your browser's developer tools: search the word "canonical" using Command + F (or Control + F for PC users), and copy the given Canonical URL. Side Note: the only reason I mention inspecting the page elements is because we have seen discrepancies in the canonical URL that shows in the address bar and the canonical that shows in the page's code. We've found the inline canonical to be the "true" canonical.
The Benefit of Keywords In Your Amazon Canonical URL
Google SEO
The canonical URL is the Amazon product URL that Google indexes for search results. Run a search for "iphone scratch resistant case amazon", and you'll see the URLs they are indexing.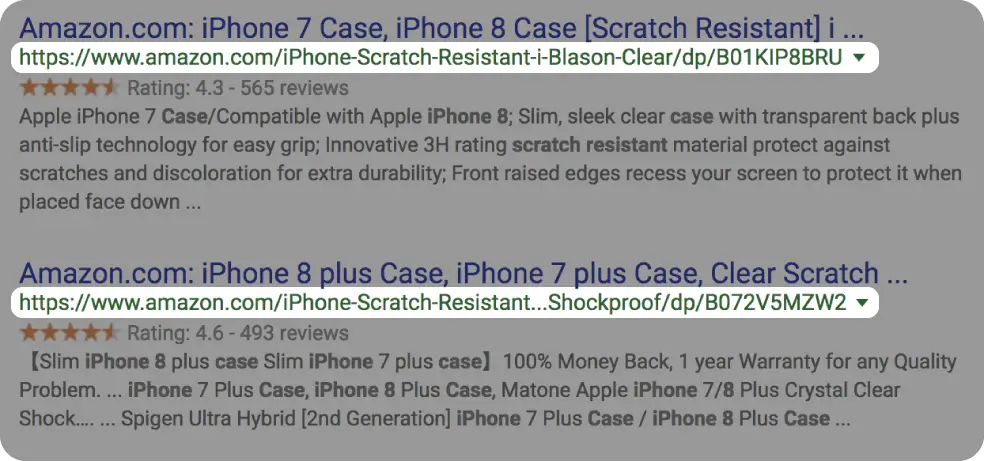 As you can see from this screenshot, Google is highlighting the keywords from the search that are found within the product's canonical URL. We have done our fair share of Google SEO, and the Canonical URL is one element of an Amazon product listing that is ripe for leveraging ranking!
Amazon SEO
Unfortunately we don't have a definitive answer as to whether or not the keywords in a listing's canonical URL have impact on keyword ranking within Amazon. There have been rumors without any supporting evidence that it does. However, it is very difficult to discern with much confidence.
The reason it is so hard to properly attribute keyword ranking to the content in the canonical is that the same keywords are also found in the title, which has major influence on keyword ranking. Discerning where the keyword ranking attribution is derived from is next to impossible.
We are working to leverage our keyword data to help find any potential evidence, and we'll let you know if we make a discovery. If you have more definitive data, we would love to hear it! Please, shoot us an email or leave a comment down below.
Get the power of an optimized canonical URL and expert Amazon SEO when you use our Amazon product listing optimization service.