Amazon recently released new targeting options for Sponsored Product campaigns that will have a major impact in your business in 2019. The new Product Targeting Beta lets Amazon sellers choose specific products, categories, brands, or other product features to target placements for your Sponsored Ads, changing the way you manage your advertising campaigns. This long-anticipated targeting option can be implemented to help shoppers find your product when browsing detail pages and categories, or when searching products on Amazon.
When creating a manual advertising campaign, the new targeting selection can be found just below your bidding options in Seller Central. Look for it under the "Targeting" header and select the "Product targeting – BETA" bubble.
Why Should I Use Product Targeting?
Product Targeting allows a seller to target individual ASINs or Products for ad delivery instead of keywords.  Sellers can now be very specific and controlled with their ad placement by delivering only on the products they choose to target. This narrow targeting can be used to build efficient sales history early on in your advertising campaigns. When deciding how to place and deliver your ad, Amazon will look at its historical performance relative to the market. Having an early track record of efficient sales history will benefit your ad delivery, ad costs, and ad placement in the future.
Which Products Should I Target?
There are several factors to consider when determining which and how many products you should choose to target with this new feature. These critical selections are dependent on the competitive features of your product and the desired positioning and marketing strategy.
Historic High-Converting ASINs
If you have run auto campaigns in the past, download a search term report and sort through the ASINs your ads delivered for. Find any ASINs that have converted profitably in the past and analyze the listing. Determine whether you have a better offering by comparing price point, review count and rating, value offered, etc…
ASINs Where You Have a Better Offer
Another method of finding ASINs to target is by searching the main keywords for your product, analyzing the search results, and hand-picking products where you have a better offer. Look for higher priced products, listings with poor review ratings or listings with fewer reviews. Objectively, if you have a better offer, that ASIN is likely worth testing in a product targeting campaign. The goal is to target placements through which you can drive sales efficiently (both by volume and cost per conversion).
Here are some criteria to consider when analyzing which ASINs to advertise on:
Price: Is the price of your product similar or better in comparison?
Review Count: How many reviews does your listing have compared to the market?
Value Offered: Is your offering similarly priced though offer a better value? Example: you sell a felt letter board that includes a bag to store the letters and advertise on another offering without the added value.
Content/Photos: Does the content in your listing and quality of your photos look more attractive than your competitor?
The objective is to find as many competing ASINs where customers are more likely to purchase your product. If you have a better price, more reviews, a better review rating or some combination of these, customers should want to buy your product over the ASINs you advertise on!
Also, consider the amount of traffic a listing is getting before adding it to an ASIN targeting campaign. You can use an Amazon product research tool to understand traffic relative to each ASIN in your campaign. Products that get more sales are almost certainly getting more sessions. If you are advertising on products that are getting more sales, your ads will likely deliver more frequently than on products that get fewer sales or are ranked lower in the organic search results.
Complementary Products: Products Frequently Bought Together or in Similar Markets
Another category of products to identify for product targeting are complementary products. Complementary products are supplementary goods that are often bought together. These are products often shown in the frequently bought together section on product detail pages. The goal of targeting these products is to attract customers with a product they didn't realize they needed. For example, targeting paint supplies if you sell painter's tape, or targeting lawn care goods for your work gloves product. Hitting people already in the buying mindset with a complementary product can increase sales volume in a market your competitors aren't prioritizing.
Example: Targeting a toothbrush with your toothpaste product

Competitor Products
In markets where you want to conquest market share, target high-trafficked competitor products to take away sales that they would otherwise be receiving. This has a dual-benefit of driving sales volume and sales history for your product, as well as affecting your competitor's sales numbers and efficiency. Price your product with a more competitively against a specific ASIN or high-ranking product and target their ASINs to drive sales velocity quickly.
Find Competing and Complementary Products with Listing Analyzer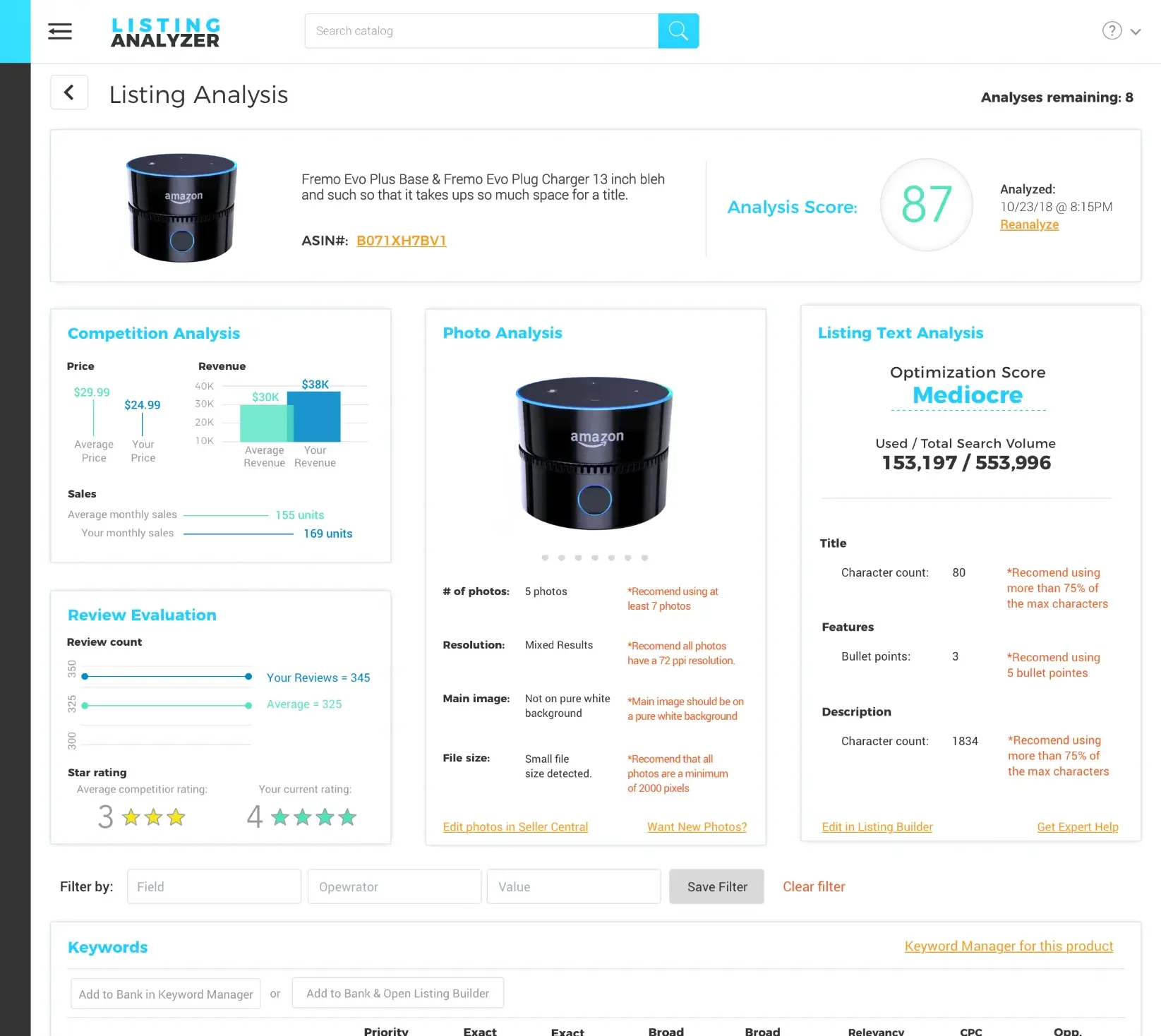 Identifying which ASINs to leverage with Product Targeting can be a time-intensive manual process, but it doesn't have to be. In one of our newest updates to Listing Analyzer, Viral Launch has released the Competing and Complementary Products Feature. Using the content of your listing and machine learning, our software will deliver a list of suggested products for you to capture in your Product Targeting campaigns. The competing and complementary products feature includes the ability to:
Discover complementary products frequently purchased together
Identify competitor products in your keyword markets
Sort and filter by products with high revenue and sales to maximize exposure
This new feature added to Listing Analyzer makes it quick and easy to get started with product targeting, saving you time by cutting down on manual research so you can make decisions quickly. To save even more time, utilize the filters feature to show only products higher priced than yours or ASINs with a lower star rating. This will instantly give you a list of ASINs that your product is likely to convert well for when advertising on! Try Listing Analyzer for free to see for yourself.
Defensive Placements
Along with capturing placements where you wish to increase your market share, it is equally important to defend the placements you already dominate. For sellers with multiple products and variations in their catalog, product targeting can be leveraged to target your own listings. By showing your own products on the detail pages of other products in your catalog, you can take up space on the "digital shelf" to suppress your competitors' visibility. By defensively spending, you prevent other sellers from intruding on valuable retail space on your product listings. By targeting these placements with other SKUs in your catalog you may even be able to increase sales across those other products!
ASINS from Farming Campaigns
When starting your paid advertising campaigns, it is critical to frequently sort through search term reports, farm high performing search terms, and add them to your campaigns. When you go through these reports, you can see that your auto campaigns will oftentimes deliver for ASINs instead of search terms. An effective seller will continually target these ASINs that have converted and include them in their product targeting campaigns. These "farmed" ASINs from search term reports have the benefit of already being "proven" with a historical sales record of converting for your product. It is highly encouraged to include these ASINs in your product targeting to build sales volume with efficient placements.
It is important to also look at ASINs that have delivered for your campaigns and have not converted. Although no sales have come through these ASINs, they have received clicks.  Amazon has delivered your product for these ASINs, which means it is recorded as algorithmically relevant. Sellers should look at these ASINs and identify whether they have a better offer while also reviewing them for potential new markets for complementary products. Explore the products that show up in your search term results. Every offer you can beat is another opportunity for you to grow your market share.
Category Targeting
As well as targeting individual ASINs for your ad delivery, Amazon now allows you to target entire product categories and subcategories. These category targeting campaigns deliver for any product across the targeted category and within the customizable parameters you set.
Amazon gives you the ability to refine your category targets by specific brands, price range, and star ratings. With narrow refinements, you can reach a broader audience while staying within range of products you can compete against. The more narrow your refinements, the fewer product targets your ad will deliver.
Category campaigns should be used in instances where you have a better offer than most of the market, or you can deliver for a wide number of products within your delivery refinements.  Category targeting is less efficient because of its broader delivery, but can be implemented to scale up your campaigns and expand delivery across more product targets easily. Again, these campaigns can be used as a method of "farming" new ASINs to target in your specific product targeting campaigns. Inversely, find ASINs that you deliver for frequently though don't convert for. Category ads allow you to add negative ASIN targets to help mitigate inefficient ad spend.
Negative Product Targeting
Amazon also now allows you to add negative product targets in your product targeting campaigns. Select products that you don't believe you can compete against and add them as negative targets to remove them from delivering in your ad campaigns. This will help you eliminate inefficient placements and improve ad efficiency.
Managing and Scaling Your Campaigns
As with every advertising campaign, it is important to monitor the data that comes through the listing. Eliminate products targets that spend and do not convert after spending past your profitability threshold. The goal of this strategy is to build sales quickly and efficiently. Treat ASIN targets similarly to keywords. Pause ASIN targets as they spend over your profitability threshold or those that don't convert and allow the budget to flow through your most efficient targets.
When high-performing ASIN targets are identified, scale up your campaigns and grow your market share. Select the targets that are driving sales at a rate that spends a significant amount of your daily budget, make sure they are given the money they need to spend throughout the day. These campaigns should be profitable, so scaling the campaign should increase your daily sales volume at an efficient rate. This is where the real growth occurs. Keep increasing the budgets of your campaigns that perform the best for your business and drive the highest percentage of your sales volume. Your market share will grow and the results will speak for themselves.
Conclusion: Maximize Your Sales with Product Targeting
Product targeting provides some of the most narrow targeting options for Amazon advertisers. This new feature should be leveraged by almost every seller to build sales volume effectively and efficiently. The ability to select only the products you want to deliver on can grow your market share without sacrificing spend efficiency. Our Competing and Complementary Products feature in Listing Analyzer makes it fast and simple to get started with this new feature.  Integrate product targeting into your ad campaigns today and start growing the reach and maximizing performance for your Amazon business!