Amazon is the world's top retailer, with its ecommerce sales expected to reach $746.22 billion in 2023. So selling on Amazon can be a lucrative venture for many sellers.
Email marketing is a good way to reach your Amazon customers and promote your products. In fact, the Litmus State of Email Report shares that email marketing is the most effective marketing channel to grow your sales and revenue.
That said, Amazon has strict rules on how sellers should communicate with customers. For example, you can only send permitted Amazon seller messages to shoppers who reach out with purchase-related queries. Emails like discount offers, order confirmations, and thank you notes are prohibited.
As a result, you need to explore other options to engage customers better and build your ecommerce business. We'll look at three ways to do so to help you boost customer engagement and sales without breaking Amazon rules.
1. Build Your Own Email List
Building an email list directly on the Amazon platform may cause the ecommerce retailer to suspend your store permanently. That means you can only communicate with buyers in the Amazon Buyer-Seller messenger.
Although you can send promotional emails using the Tailored Audiences tool, you can only do so from the Amazon domain. And you still won't own your customers' email addresses.
That's why you need a proactive strategy to acquire customers' emails outside of Amazon's platform, where you can communicate with repeat customers and market your products without breaking Amazon's rules.
With that in mind, let's look at some ways to build an email list outside of Amazon:
Add Popup and Sign-Up Forms to Your Homepage
Popup and sign-up forms help you grow an email list of permission-based, engaged subscribers. As a result, these forms can be excellent tools to grow your list through your ecommerce website.
You can use an email marketing service like Sender to create beautiful popups and sign-up forms to boost your chances of grabbing visitors' attention and getting them to sign up for your email list.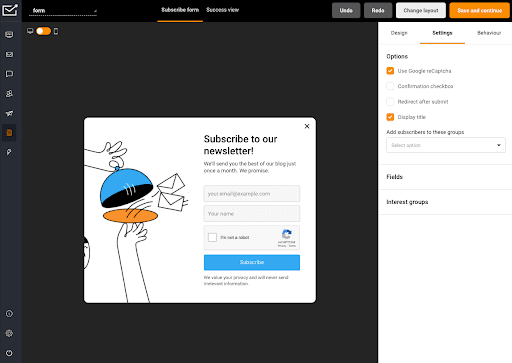 Create Squeeze Pages
A squeeze page is a special landing page designed to capture email addresses from visitors by restricting access to specific content, which the user can access after giving their contact information.
Squeeze pages are usually short, but they almost always include the following:
A headline that clearly shows the benefit you're offering;
Supporting text that gives the website visitor enough information to make a decision;
A signup form embedded on the page with one or two fields that allow users to opt in without leaving the page.
Here's an example from Marie Forleo, an influential entrepreneur and motivational speaker: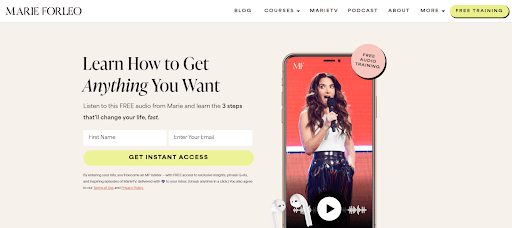 The squeeze page is effective because of the following:
A headline with an offer that's hard to ignore — Learn How to Get Anything You Want;
Clear call-to-action (CTA) encouraging users to act immediately;
Assurance that users can unsubscribe anytime.
Use Social Media Marketing to Generate Email Signups
Your social media fans typically follow you because they enjoy your content. That's why promoting your email list on social media platforms is an excellent way to grow customer engagement.
One of the most effective ways to achieve that is to use the bio section since it's what people see first when they land on your social media profile. Moreover, you can use that section to talk more about your business, so users can understand the advantages of joining your email list.
Here's an example from OmieLife:

The brand offers a 10% discount on the first order to entice followers to subscribe to its email list.
2. Offer Customers Valuable Content Consistently
Offering valuable content to your recipients consistently will help you build customer loyalty. A 2023 Semrush report shows that 44% of brands succeeded in their marketing efforts by improving the value and quality of their content.
When done well, sharing valuable content with prospects can help guide them through the customer journey and increase sales.
Some examples of how you can share high-quality content with your Amazon customers include:
Creating video tutorials to demonstrate how your products work;
Adding quality product images to your emails;
Sending regular Amazon emails that address customers' concerns.
With that in mind, let's look at some effective marketing emails you can send to customers to engage them and increase sales and revenue:
Welcome Emails
Welcome emails are the first messages you send recipients after they purchase something from your ecommerce store or join your email list. According to Invesp, 74% of consumers expect a welcome email after joining your subscriber list.
Welcome emails establish your relationship with new customers. Therefore, you can use these emails to tell your brand's story and highlight what makes your business unique to boost customer engagement.
Here's an example from Spotify: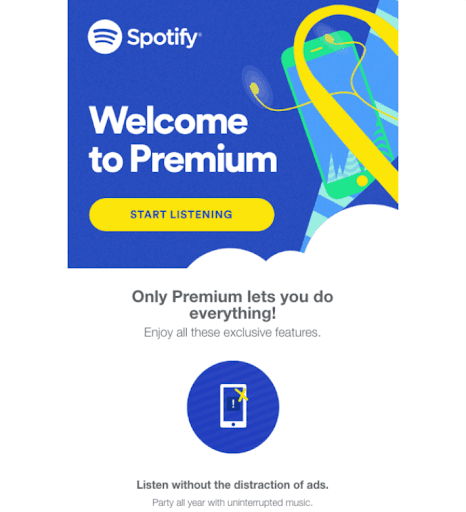 Review Request Emails
A review request email is sent to consumers for feedback on your products or services and customer interactions. According to a 2023 BrightLocal Consumer Survey, 34% of customers said they'd leave a review if you requested them to do so through email.
As a result, an Amazon feedback request email will help you collect crucial findings about your products from customers. That way, you can improve your Amazon email campaigns and offer shoppers better experiences.
Here's a brilliant review request email from J.Crew: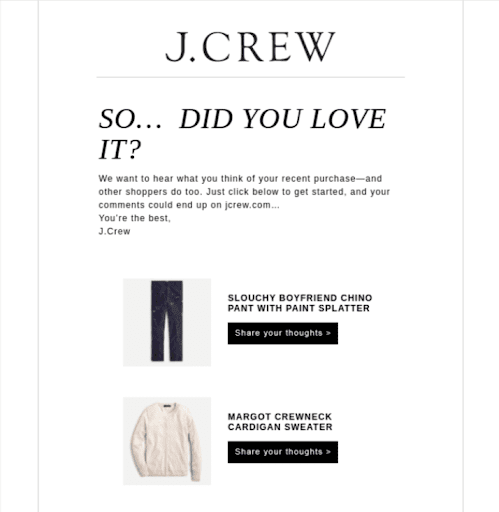 Anniversary Emails
Anniversary emails are automated messages you send to recipients to celebrate the day they purchased their first product from your ecommerce website. These emails encourage high-spend customers to buy more, increasing your sales and customer retention.
Anniversary emails typically have personalized offers, such as discounts and coupons, to increase open and click-through rates.
Here's an excellent example from Busuu:
Product Update Emails
If you've taken the time to implement a new feature into your product, don't be shy about letting subscribers know about it. Only make sure to frame these emails as up-to-date and ready to address your customers' biggest challenges.
Doing so will help you improve customer satisfaction, user engagement, and even revenue.
Here's a brilliant product update example from Worksuite: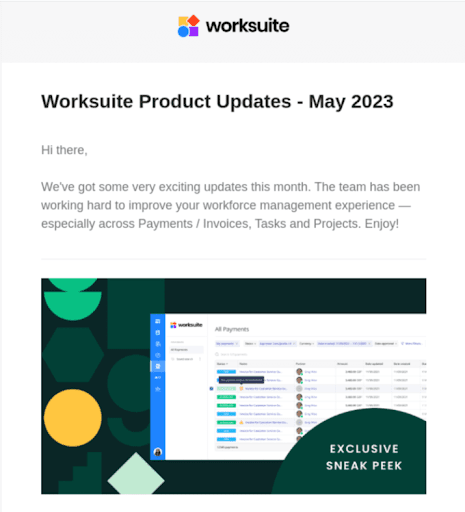 Promotional Emails
Promotional emails are messages that offer incentives to customers to encourage them to make a purchase so you can drive sales and revenue. Most often, the emails have a limited time, so customers feel the need to act fast.
You can create promotional emails for:
Seasonal or holiday sales;
New arrivals;
Customer-exclusive deals;
Contests and giveaways.
Here's an example from Barnes & Noble:
3. Use Social Proof To Build Credibility and Trust
In today's digital world, credibility and trust are key elements for a business to succeed. And using social proof in your Amazon email marketing campaigns is an excellent way to achieve that.
The report from BrightLocal shows that 81% of shoppers are likely or highly likely to give a positive review if they feel your brand went above and beyond to offer them an exceptional experience. So give your Amazon customers what they want.
For instance, you can use interviews and surveys to determine specific issues consumers face when using or purchasing your products on Amazon. Then, use your emails to show them how to solve the problems.
As a result, you'll get positive testimonials and reviews to attract potential customers and establish your brand as credible and trustworthy.
Best Tools To Build Your Amazon Email Marketing Strategy
An email marketing tool will help you build your subscriber list and create email drip campaigns that offer personalized and valuable content to customers.
Let's look at some of the best email marketing platforms that can help you engage customers:
1. Sender
Sender is an affordable and powerful email and SMS automation tool that empowers you to engage with your customers and grow your brand and revenue.
The platform lets you easily create and send stunning emails, which you can pick from its library of premade templates or design your own in minutes with a drag-and-drop builder. You can also create beautiful popups and forms to generate leads and convert them to customers.
On top of that, you can build high-converting automated workflows with custom triggers to deliver targeted, personalized, and perfectly-timed emails to your subscriber list. That way, you're able to help prospects become customers faster.
Key Features:
Email and SMS marketing automation;
High-converting popups and sign-up forms;
Drag-and-drop design builder and free library of prebuilt templates;
Smart segmentation and personalization;
Real-time reporting and analytics to track your Amazon email campaign performance.
Pricing: Free Forever plan. Premium plans start at $8 per month for up to 2,500 subscribers.
2. HubSpot
HubSpot is a marketing platform that offers free email marketing capabilities with advanced functionalities designed to help Amazon sellers grow their sales. The marketing software provides customer relationship management (CRM), sales tools, automation workflows, a website builder, and an operations hub.
You can use data from their advanced CRM system to deliver personalized user experiences. That means you're able to design customized email campaigns for each customer based on their needs and preferences.
HubSpot also includes features like contact forms, popups, live chat, and other tools to build your subscriber list.
Key Features:
Sync your customer data with HubSpot CRM;
Email personalization and segmentation;
A/B testing and analytics to optimize your Amazon email marketing campaigns.
Pricing: Free plan. Premium plans start at $20 per month for up to 1,000 marketing contacts.
3. Klaviyo
Klaviyo is an email marketing service provider that allows Amazon sellers to create effective sign-up forms and popups for lead generation.
The tool also offers attractive templates that work with dynamic blocks. As a result, you can modify the template and choose what customers see based on their data.
In addition, Klaviyo lets you segment your customers and analyze data to help you focus on personalization, automate various emails, and boost your ROI.
Key Features
Email marketing automation;
Predictive analysis;
Personalization and advanced segmentation;
Performance and reporting metrics for your Amazon email campaigns.
Pricing: Free plan. Premium plans start at $20 per month for up to 500 contacts.
4. Mailchimp
Mailchimp is a platform that offers email marketing for Amazon sellers. It helps them set up automation workflows that trigger messages based on customer behavior. As a result, Amazon sellers are able to drive more engagement and sales.
The email marketing tool also helps you deliver personalized emails based on chat interactions, support tickets, and survey responses to boost customer loyalty and growth.
Mailchimp also integrates with your frequently used tools to help you send subscribers more data-driven and relevant messages to increase customer lifetime value.
Key Features:
Email automation features to send welcome, re-engagement, and abandoned cart emails;
Real-time reports and analytics;
Content Optimizer for AI-powered email campaign improvements;
Prebuilt templates to create landing pages and popup forms.
Pricing: Free plan. Premium plans start at $13 per month for up to 500 contacts.
5. GetResponse
GetResponse is a complete Amazon customer engagement tool that enables sellers to drive more sales.
The platform enables you to create various segments and send targeted and highly personalized email campaigns using data from your GetResponse account.
GetResponse also integrates with other business tools, which can open opportunities for upselling, cross-selling, repeat sales, and add-on sales.
Key Features:
Drag-and-drop email editor and prebuilt templates;
Upsell and cross-sell email campaigns;
Advanced segmentation.
Pricing: Free 30-day trial. Premium plans start at $15.58 per month (billed yearly).
Key Takeaways
The return on investment (ROI) of a well-planned ecommerce email marketing campaign is pretty high. In fact, it has the highest ROI of any marketing method, returning around $38 for every dollar invested.
So if you're an Amazon seller, email marketing can be an excellent tool to get more reviews, boost sales, and increase customer loyalty.
In summary, the best ways to engage customers without breaking Amazon rules include:
Building your own email list outside of Amazon;
Offering customers valuable content consistently;
Using social proof to build credibility and trust.