A Viral Launch Review: 3 Amazon Product Launch Case Studies
"After

one month

of using Viral Launch's Amazon product launch software, I went from $400K/month to $650K/month. My products are selling like crazy!!!" – Camilo | Amazon Seller
After running over 20,000 Amazon product launches and working with over 5,500 brands, the Viral Launch team has heard countless Amazon success stories.
Our favorite part about providing our Amazon seller software and services is hearing about how we are helping to transform businesses. And we are complete suckers for the dad who was able to quit his day job and spend more time with his kids or the hard-working seller who finally claimed the top spot on page 1 to hit that long-elusive revenue metric.
Using a proven strategy to sell on Amazon has an enormous impact on sellers, their businesses, and their lives. We're sharing case studies from a few of the many sellers who launched their Amazon businesses to success in this Viral Launch review.
Viral Launch Review: amazon seller case Studies
The following three brands all have one thing in common: they were searching for a way to increase Amazon sales. In this Viral Launch review, check out how they did just that through Viral Launch's offerings.
Amazon Seller Case Study #1: Will and Tim
New Brand Leverages Viral Launch for Immediate Amazon Success – $85K/month
Summary: Will and Tim used Viral Launch's creative services and launch platform for their new private-label brand. In 90 days, their performance was as follows: $85K/month in sales, a 30-40% conversion rate across all products, #1 ranking for top keywords, and #400 BSR in ALL Health and Personal Care.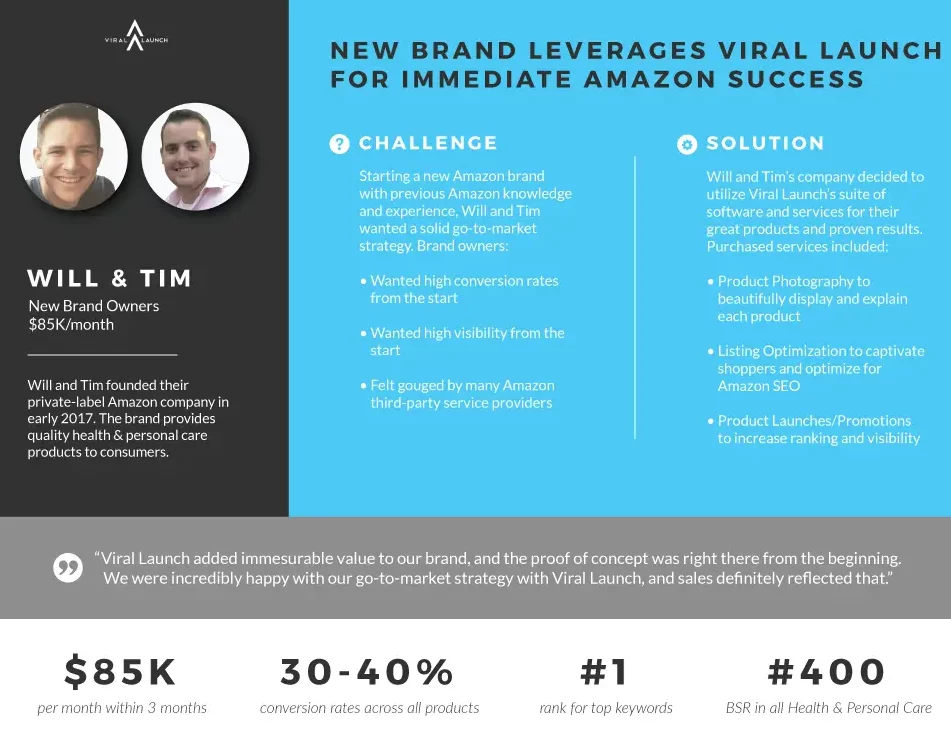 Amazon Seller Case Study #2: Ben
Home Essentials Brand Boosts Revenue by 150% with Viral Launch – From $2M to $5M/year
Summary: Ben and his team started selling on Amazon in 2015. Faced with the challenge of increasing visibility for products buried in Amazon's search results, Ben utilized Viral Launch's promotional software in 2016 and has since increased annual revenue by 150%. With 20+ products launched, the brand is now on pace for $5M in revenue in 2017.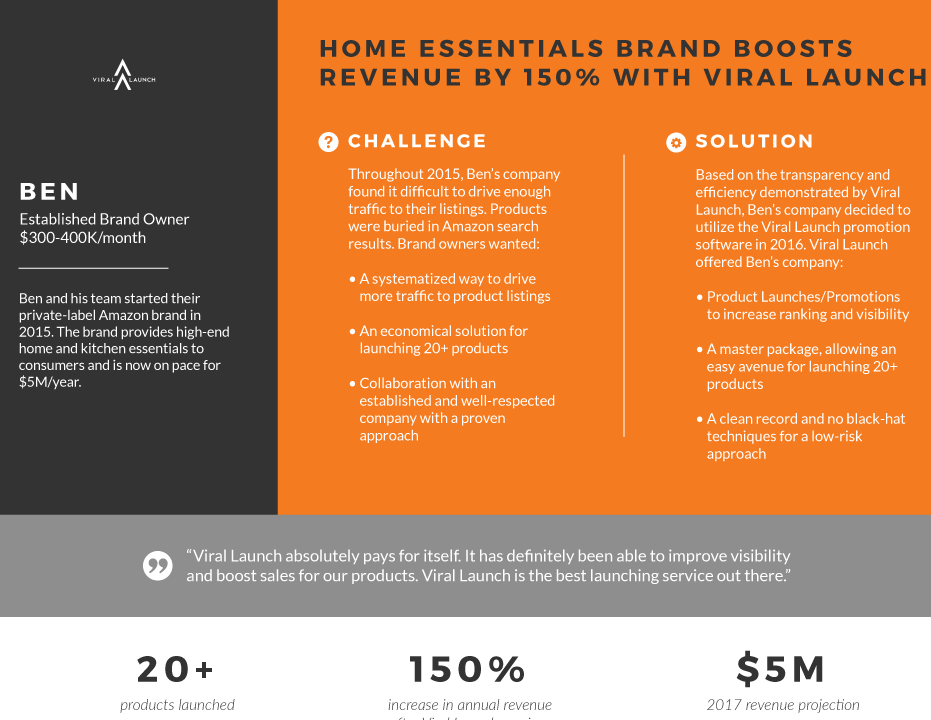 Amazon Seller Case Study #3: Camilo
From $400K to $650K/Month in One Month with Viral Launch
Summary: Camilo started his private-label FBA business in 2014. After finding it difficult to gain visibility for his products, Camilo ran promotions through Viral Launch. In just one month, he went from $400K to $650K/month and is projected to sell over $7M in 2017.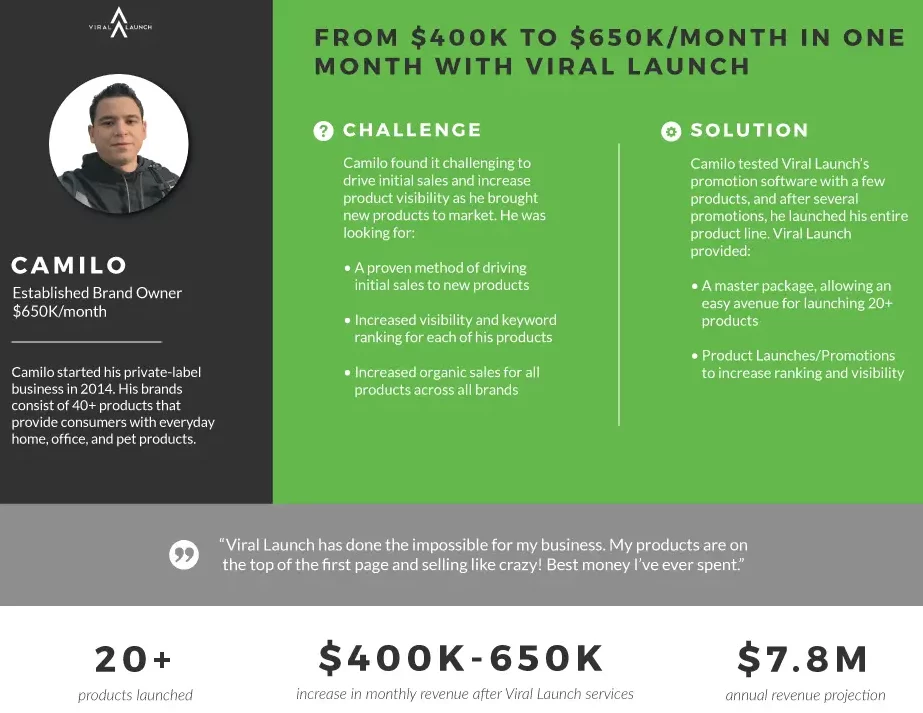 Write Your Amazon Success Story
Whether you're just starting out or have an established Amazon business, there is always opportunity for sales growth. A solid "how to sell on Amazon" approach involves:
Sourcing a profitable product

that will allow you to quickly scale, found through

Amazon product research.

Start by calculating your profit with an Amazon FBA calculator
Setting up your listing

for high clicks and conversions with stunning Amazon product photos and an

optimized listing

Gaining visibility

with

keyword ranking

for your product's high volume and high conversion keywords

Gathering social proof

with Amazon email follow-ups targeted for reviews and seller feedback
No matter where you're hoping to take your Amazon business, Viral Launch would love to help you get there. We offer software, creative, and consulting services to help you source, launch, and dominate on Amazon.
Join Tim, Will, Ben, and Camilo and dominate your product markets on Amazon with Viral Launch!
There is no silver bullet to Amazon success. You need an arsenal. Viral Launch is that arsenal.
Tim, Will, Ben, and Camilo's Viral Launch review: ★★★★★
—
Post: A Viral Launch Review: 3 Amazon Product Launch Case Studies
Related: $40K in the First 30 Days on Amazon with Viral Launch Flight Crew