This week, Amazon confirmed rumors of a second Prime Day-like sales event titled the Prime Early Access Sale with a press release announcing the event. As previously reported, the Prime Early Access Sale will take place for 48 hours on October 11th and 12th.
The Prime Early Access Sale marks the first time the e-commerce superpower will hold two major sales events in one calendar year. However, it's not the first time Amazon has held a major sales event in October, as Prime Day 2020 took place from October 13th to 14th after being pushed back from its usual July date as a result of the COVID-19 pandemic.
After years of wondering if or when Amazon would look to go beyond Prime Day for annual sales holidays, the Early Access Sale appears to answer those questions. But what exactly is the Prime Early Access Sale, and what can Amazon sellers expect?
Part Prime Day, Part Black Friday?
Perhaps the most notable part of the announcement outside of the announcement itself, is it appears to serve as a kickoff for the quickly approaching holiday season.
"We are so excited to help Prime members kick off the holiday season with Amazon's new Prime Early Access Sale—an exclusive opportunity for members to get deep discounts on top brands we know they are looking for this time of year. And members can start enjoying exclusive Prime benefits and offers now, plus find gift ideas for the family with our holiday gift guides and this year's Toys We Love list."

Jamil Ghani, vice president of Amazon Prime
A significant chunk of the press release focuses on kicking off the holiday season with access to thousands of deals exclusively for Prime members. While Black Friday has long served as the unofficial beginning of the hectic holiday season, the Prime Early Access Sale seeks to get the party started six weeks before Black Friday.
Additionally, shopping for the holidays a little earlier this year may have additional benefits beyond saving a few bucks during the promotional period. Due to the uncertainty brought on by the COVID-19 pandemic and ensuing supply chain disruption that continues to have ripple effects, crossing items off your shopping checklist over a longer period helps smooth out the always-chaotic holiday blitz starting on Black Friday and lasting for weeks.
More Money, More Benefits
This year, Amazon announced a price hike for the first time in years for their signature Prime subscription for customers, with rates going from $13 per month to $15, and $119 annually to $139.
The Prime Early Access Sale indicates the subscription's price hike comes with additional benefits, so the roughly 160 million Amazon Prime subscribers get more bang while spending more bucks.
One of the most ballyhooed benefits recently added to the Prime membership is GrubHub+, with rewards and savings on the popular food delivery service. While this may not appear like news for Amazon sellers, the additional benefits outside of the Amazon marketplace for Prime members only makes the consumer base grow even larger. With benefits such as the aforementioned GrubHub+, Audible, Prime Video, Amazon Music Unlimited and countless more perks, the Prime membership base is strong and strengthens the Amazon marketplace further.
Prime Early Access Sale: Full Steam Ahead Into 2023
Although the event's existence had been hinted about, the official announcement adds intrigue to what should be an interesting Q4. After two years of uncertainty and constant disruption, things are as close to "normal" as they've been in years.
While concerns about consumer spending linger internationally, the Prime Early Access Sale and subsequent holiday season provide a worthy source of optimism for Amazon sellers looking to close out 2022 on a positive note.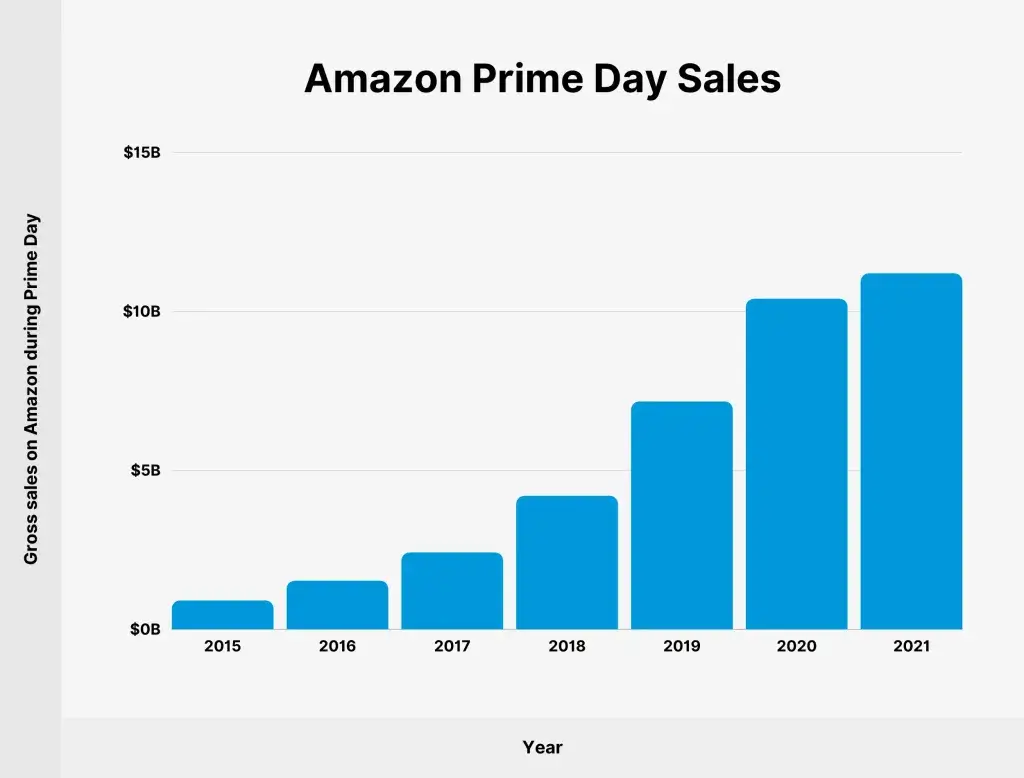 Even if the time for you to prepare for the Prime Early Access Sale is ticking, it goes without saying that sellers should not shrug off tactics to maximize visibility and sales during a period of skyrocketing sales.
Because it's the first-ever Prime Early Access Sale, it's difficult to know what to expect. However, if Prime Day is any indicator, this has the potential to be absolutely massive.
For Prime-eligible products, sellers can submit a Prime Exclusive Discount or Coupon before October 11, 2022 to participate in the Prime Early Access Sale.
Any measure sellers can take to put their product in a position for success should be taken, as a wave of sales during the event is sure to put you in *ahem* prime position to ride a wave of sales through the holiday season.
Consider what quick opportunities you can take to refine your business, from pricing to your product description to advertising. Now is the perfect time to check out tools like Competitor Intelligence, Viral Launch's tool that gives you unparalleled insight into your competition so you can out-smart the competition and stop leaving dollars on the table.