Good Amazon PPC decisions can't happen without good data. Any opportunity to gather valuable data about your Amazon ads campaigns is an opportunity to grow your business.
So if you're struggling to build a profitable PPC campaign, analyzing the right data will help you develop some effective solutions. Or if you're hitting your PPC goals, your data will be a crucial resource in keeping that success going. You may even find that your ads are missing some growth potential you weren't aware of.
Each Amazon ads placement—top of search, rest of search, or product pages—will deliver different amounts of traffic and could require different amounts of spending. The traffic you get on page 1 will be much different than on page 5. Understanding how your ad's placement is paying off (literally) will help you know how well your campaigns are increasing your visibility.
Whether you're keeping a close eye on your ad placement or unsure of how to start, Viral Launch's software tool Kinetic will give you the data you need to monitor your performance. It provides a simplified and agile means of managing your Amazon ads campaigns, allowing you to make improvements or adjustments quickly. Whatever your PPC goals, Kinetic will help you pinpoint the most effective placements for your ads and create sales-driving campaigns for your brand.

Why Amazon Ad Placement Data Matters
When you've got a good ACoS, you might consider your PPC campaign a success and want to leave everything exactly as it is. Why fix what isn't broken? All you need is some automation so you can set it and forget it.
The trouble is that what's successful on Amazon now won't deliver the same results a month, a week, or even a day from now. Taking a hands-off approach will inevitably lead to a loss in visibility and be a gift to your competitors. Monitoring, analyzing, and adjusting are all necessary tasks in a successful PPC campaign, and you'll need to know which placements are giving you the best outcome and which keywords or ASINs are your best targets.
Know Which Placement Leads to the Best Results
After some effort, your Amazon ads are now finally appearing at the top of page one. You've taken a step up from the middle of search and expect to see a boost in visibility. As it turns out, you unexpectedly find that the middle of the page was better for your campaign, as it consumed less of your budget and led to a greater number of impressions.

Your ideal ad placement will be dictated by your budget and PPC goals, as well as the data you collect. You'll need to examine your ACoS and click-through rates, and determine which placement will deliver the best performance. An ad at the top of search will increase your product's visibility, but the cost per click (CPC) will be more expensive. With lower placements, you'll drive a lesser amount of traffic, but the clicks will be less expensive. Without knowing what each ad placement can deliver, you'll be missing opportunities to connect with customers and narrow down your best placement spot.
Know the Keywords or ASINs That Deliver the Best Performance
Keywords aren't just important to your products' organic ranking. They're also vital to getting your ads in front of your target audience. Your Amazon ads placement data can convey which search terms you're competing the best for. You can then focus on those that will deliver the best return while pausing those that might not be very effective.
Let's say your ad is targeting three different search terms: 
Garlic press

Garlic press stainless steel

Garlic press and slicer in one
For "garlic press," your Sponsored Products are showing up on the middle of page 5 and not getting many impressions. "Garlic press stainless steel" is giving you some visibility the middle of page 3, and "Garlic press and slicer in one" is the best of all on page 1. By knowing what's getting the best performance, you can focus on maintaining that success and start creating plans to make improvements for campaigns that are struggling.
In addition to Amazon ads placement data, other performance metrics will be crucial to growing the success of your campaigns, and Viral Launch's Kinetic provides all of those metrics in an easily accessible format. This PPC software tool will allow you to gain insights into your campaigns to help you continue to meet your goals and pinpoint where any adjustments should be made.
Kinetic: Simplified and Efficient PPC Campaign Management

Your ad's placement will tell you a lot about your campaign, but it's up to you to unpack the data behind it. Our PPC tool, Kinetic, provides an efficient and in-depth way to evaluate your keywords, budget, structure and overall performance. By providing a full range of data no other tool provides, Kinetic will give you better control over your campaigns and strengthen their performance.
Sales, Spending & Placement Data
Knowing your best opportunities for growth should be an underlying goal for all your PPC campaigns. By telling you exactly where your ads are showing up, Kinetic can determine which placements are giving you the best performance.
You can also learn whether product pages or search results are giving you the most visibility. If product pages are best, you can devise a strategy for targeting competitors' products with a more expensive price than yours. With your ad running next to them, you could potentially steal sales from those brands. By using Kinetic in combination with Viral Launch's Competitor Intelligence, you can research your competitors' products and locate some untapped opportunities for growth.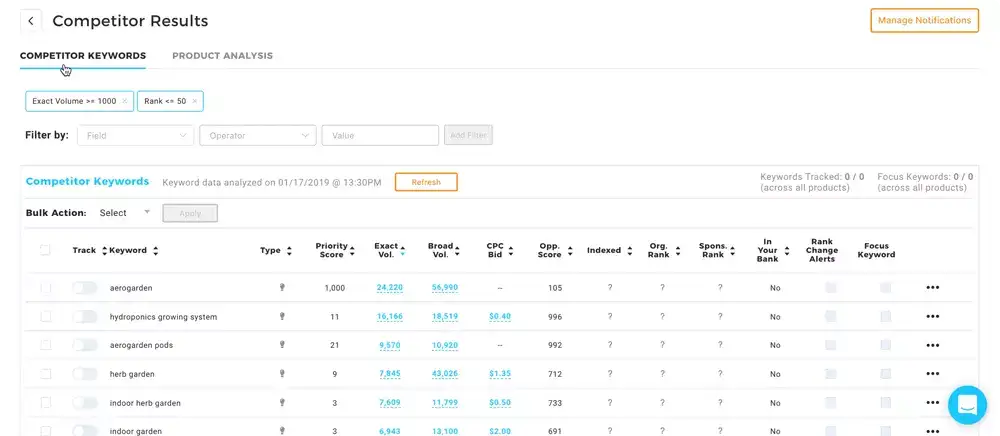 Kinetic also provides organic sales data, so you'll be able to determine how your ads are helping boost your organic search rankings. The greater visibility your ads provide, the greater your sales will be, and an increase in sales will help improve your organic rank. Making improvements to your PPC campaigns will help increase your products' visibility, and monitoring your ad placement data will be important to knowing where and how to make adjustments.
Manage and Maximize Your Bids and Budget
You can't have a discussion about PPC management without talking about bids and budget. Keeping your spending as efficient as possible is an ongoing challenge, and Kinetic can help you tackle your budget challenges.
Kinetic's customized automated rules will enable you to create thresholds for each campaign based around ACoS, clicks, orders, and ad rank. This customization isn't limited to a few predefined functions. The flexibility it provides is unique to PPC software and puts all the control in your hands.
You can set your bids to increase or decrease based on specified conditions, such as if your ACoS is less than your breakeven ACoS and the click rate is larger than a certain amount. Or you can pause keywords that aren't performing over a certain target. You can also add bid modifiers to target top or bottom of search and make adjustments to improve or maintain your PPC campaigns.
All of these automation features will help you reach your PPC goal, whether that's a profitable campaign, a lower ACoS, increased organic rank, or all of the above. Kinetic gives you an endless amount of possibilities in the automation you can create to use your budget more efficiently and strengthen your ROI.
Monitor the Performance of Your Keywords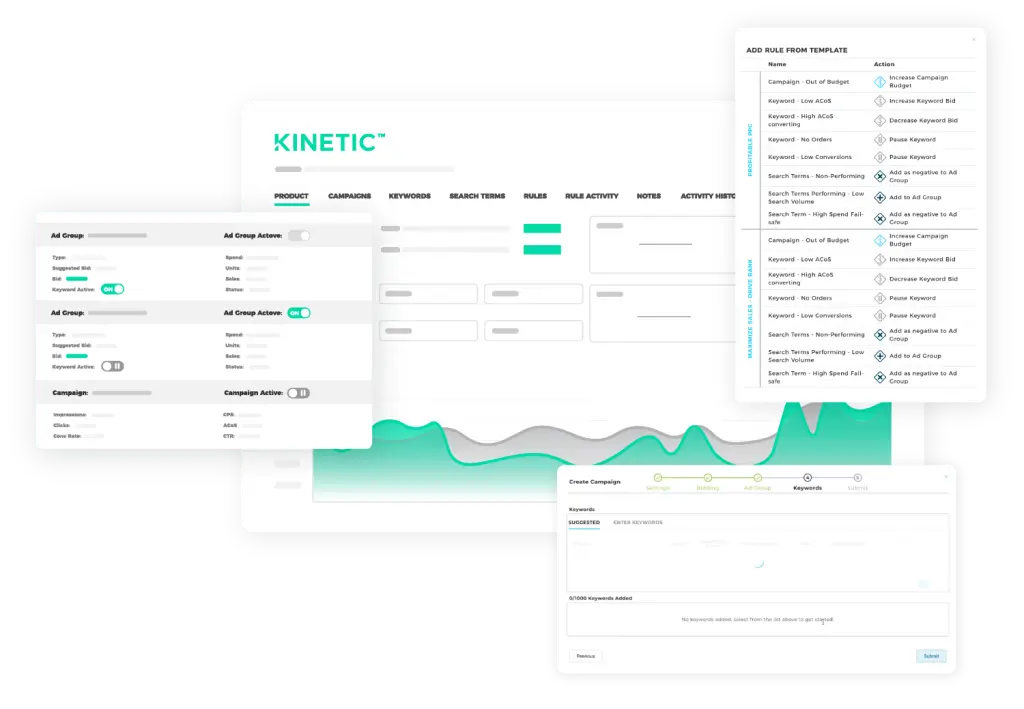 Targeting the right keywords is absolutely essential for your ad campaigns. Keyword research is an indispensable task and one that shouldn't be thought of as something you only use at the beginning of a product launch. Making sure you're targeting the right keywords for your products and ads should be an ongoing process.
The data Kinetic provides will tell you how well your ads' keywords are performing and their profitability. You'll be able to make decisions on which keywords should be paused, set as negatives, or broken out into their own campaigns. Any keywords driving a large amount of sales or consuming the majority of your budget are good candidates for having their own campaigns. By breaking them out, you can then increase your visibility and conversions, and Kinetic can help you manage those new campaigns.
Kinetic also offers search term reports you can view, so you don't have to rely completely on Seller Central. Unlike Seller Central, you can easily compare and flip between different date ranges within the tool, instead of having to download one report at a time. Whenever you need to compare your seasonal data to previous months or years, Kinetic is an ideal solution. The tool also enables you to more easily aggregate your campaign's performance by search term, which is more complicated in Seller Central.
Improving and Refining Your Amazon PPC Campaigns
Making the right decisions about your PPC ads depends on your ability to evaluate your keywords, budget, and performance. It's vital to know how many impressions, views, or conversions your ad receives at different placements, whether top of search, rest of search, or product pages. By analyzing your spending data, click-through rates, and impressions, you can have a clear idea of how well your ads are performing.
Whatever challenges you may be facing with your PPC campaigns, Kinetic will help you develop customized and effective solutions. In addition to ad placement data, the tool provides quality data on keywords, campaign performance, spending, and Sponsored ad rank. Designed to make your PPC management more efficient, it will help you find weaknesses, develop improvements, and put them in action.
The team here at Viral Launch is committed to providing Amazon sellers of all sizes with the resources for attaining long-term success. Our expertise has been built on tens of thousands of product launches, and Kinetic's sophisticated but easy-to-use capabilities will help your brand achieve their PPC goals and simplify the challenges of advertising on Amazon.