Recently, Amazon announced the latest major update to their increased emphasis on advertising. Sponsored Display ads are now being shown on Twitch, adding yet another avenue to expand advertising reach.
Effective immediately, all Sponsored Display audiences campaigns are eligible to serve on the Twitch Browse and Discovery pages. Twitch supply is automatically enabled for all US, CA, FR, IT, DE, ES, and UK based Sponsored Display audiences campaigns.
Amazon-owned Twitch is a live streaming service with a global community from content spanning gaming, entertainment, music, sports, and more. In April 2021, Twitch boasted approximately 9.36 million active streamers. In 2020, there were around 41.5 million Twitch users in the United States alone, with that number estimated to rise by 10 million by 2024.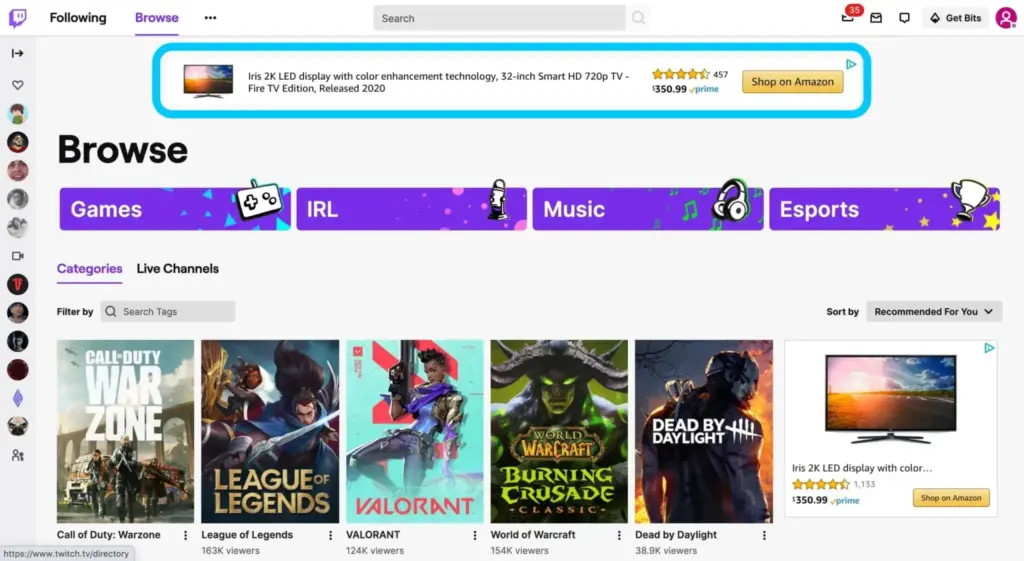 Twitch users tend to skew towards a younger crowd. The opportunity to put your product in front of the highly-valued young demographic. As Gen Z builds buying power, the ability to put your product in their hands and build brand loyalty with them presents a phenomenal opportunity.
Amazon Advertising states the Display ads may appear in three unique spaces, each with varying levels of visibility.
Want the latest Amazon news and updates sent directly to your inbox? Drop your email to stay in the loop on all things Amazon!
Getting In The Game
With this announcement, Amazon advances its relationship between the marketplace and Twitch. Amazon's Prime Gaming community works as a link for Amazon Prime subscribers to connect their account with Twitch. With deals and "loot" such as in-game currency serving as an incentive for customers to attach the two.
As the PlayStation 5 and XBOX Series X become more accessible after the production and delivery, one would reasonably expect further advancements in Twitch. To promote user count and usage.
In addition to the millions of engaged customers who can now be targeted being newsworthy. This also highlights the growing emphasis on advertising from Amazon. Since Twitch is a subsidiary of Amazon, its addition makes perfect sense.
Impact on Advertising
While Apple's highly-publicized changes to advertising and protecting user data threaten to shake up industries, Amazon and its far-reaching subsidiaries present an opportunity to target customers in a way that may not be as easy to do elsewhere.
As Amazon continues to grow on its own and through purchasing companies such as Twitch, Whole Foods, and Goodreads, so does the potential for extra advertising avenues.
If you're an Amazon seller with little experience in Advertising, there's no better time than now to get involved. Over the past year, the Amazon Advertising Console has evolved at a rapid rate.
In previous years, advertising knowledge was a luxury. Soon enough, it'll likely be a prerequisite towards customer acquisition.
Enroll In our FREE Amazon PPC Playbook